Chercheurs et cliniciens impliqués : Toby Andrew, Amélie Bonnefond, Fabien Delahaye, Dominique Eladari, Philippe Froguel, Inga Prokopenko et Anne Vambergue
Concernant les formes complexes polygéniques des maladies métaboliques (incluant par exemple le diabète de type 2 après un diabète gestationnel, le NASH, les maladies métaboliques post prématurité), nous réalisons plusieurs types d'analyses multi-omics (via notre plateforme EquipEx LIGAN) à partir de différents tissus : le sang le cordon, le placenta, le sang entier, le foie, le muscle squelettique, le pancréas endocrine (les îlots de Langerhans) et le pancréas exocrine. Les techniques multi-omics incluent les puces à ADN utilisées dans les études d'association pangénomique (GWAS), le séquençage NGS de l'ARN (RNA-seq) possiblement dans des cellules uniques (single-cell), les puces de méthylation EPIC, le séquençage NGS des zones méthylées (Methyl-seq) ou encore de la métabolomique, afin de pouvoir réaliser des analyses intégratives (de type eQTL, pQTL, meQTL… et MergeOmics) en prenant un compte un phénome le mieux caractérisé possible, permettant la découverte de nouvelles voies physiopathologiques mais aussi l'optimisation de la stratification des patients, en vue d'une médecine de précision.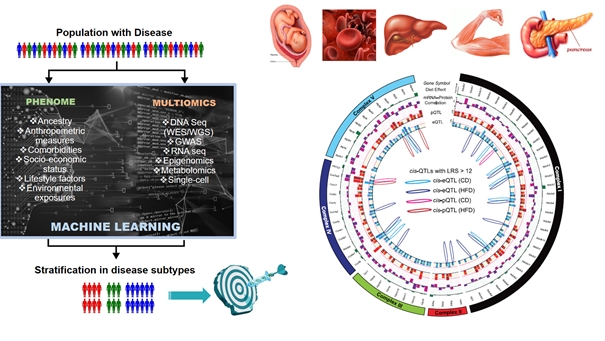 Publications majeures associées de l'équipe depuis 2015 :
– NACHO: an R package for quality control of NanoString nCounter data. Canouil M, Bouland GA, Bonnefond A, Froguel P, 't Hart LM, Slieker RC. Bioinformatics. 2020 Feb 1;36(3):970-971.
– The expression of genes in top obesity-associated loci is enriched in insula and substantia nigra brain regions involved in addiction and reward. Ndiaye FK, Huyvaert M, Ortalli A, Canouil M, Lecoeur C, Verbanck M, Lobbens S, Khamis A, Marselli L, Marchetti P, Kerr-Conte J, Pattou F, Marre M, Roussel R, Balkau B, Froguel P, Bonnefond A. Int J Obes (Lond). 2020 Feb;44(2):539-543.
– Laser capture microdissection of human pancreatic islets reveals novel eQTLs associated with type 2 diabetes. Khamis A, Canouil M, Siddiq A, Crouch H, Falchi M, Bulow MV, Ehehalt F, Marselli L, Distler M, Richter D, Weitz J, Bokvist K, Xenarios I, Thorens B, Schulte AM, Ibberson M, Bonnefond A, Marchetti P, Solimena M, Froguel P. Mol Metab. 2019 Jun;24:98-107.
– Epigenome-wide association study of adiposity and future risk of obesity-related diseases. Campanella G, Gunter MJ, Polidoro S, Krogh V, Palli D, Panico S, Sacerdote C, Tumino R, Fiorito G, Guarrera S, Iacoviello L, Bergdahl IA, Melin B, Lenner P, de Kok TMCM, Georgiadis P, Kleinjans JCS, Kyrtopoulos SA, Bueno-de-Mesquita HB, Lillycrop KA, May AM, Onland-Moret NC, Murray R, Riboli E, Verschuren M, Lund E, Mode N, Sandanger TM, Fiano V, Trevisan M, Matullo G, Froguel P, Elliott P, Vineis P, Chadeau-Hyam M. Int J Obes (Lond). 2018 Dec;42(12):2022-2035.
– Increased Hepatic PDGF-AA Signaling Mediates Liver Insulin Resistance in Obesity-Associated Type 2 Diabetes. Abderrahmani A, Yengo L, Caiazzo R, Canouil M, Cauchi S, Raverdy V, Plaisance V, Pawlowski V, Lobbens S, Maillet J, Rolland L, Boutry R, Queniat G, Kwapich M, Tenenbaum M, Bricambert J, Saussenthaler S, Anthony E, Jha P, Derop J, Sand O, Rabearivelo I, Leloire A, Pigeyre M, Daujat-Chavanieu M, Gerbal-Chaloin S, Dayeh T, Lassailly G, Mathurin P, Staels B, Auwerx J, Schürmann A, Postic C, Schafmayer C, Hampe J, Bonnefond A, Pattou F, Froguel P. Diabetes. 2018 Jul;67(7):1310-1321.
– Jointly Modelling Single Nucleotide Polymorphisms With Longitudinal and Time-to-Event Trait: An Application to Type 2 Diabetes and Fasting Plasma Glucose. Canouil M, Balkau B, Roussel R, Froguel P, Rocheleau G. Front Genet. 2018 Jun 14;9:210.
– Systems biology of the IMIDIA biobank from organ donors and pancreatectomised patients defines a novel transcriptomic signature of islets from individuals with type 2 diabetes. Solimena M, Schulte AM, Marselli L, Ehehalt F, Richter D, Kleeberg M, Mziaut H, Knoch KP, Parnis J, Bugliani M, Siddiq A, Jörns A, Burdet F, Liechti R, Suleiman M, Margerie D, Syed F, Distler M, Grützmann R, Petretto E, Moreno-Moral A, Wegbrod C, Sönmez A, Pfriem K, Friedrich A, Meinel J, Wollheim CB, Baretton GB, Scharfmann R, Nogoceke E, Bonifacio E, Sturm D, Meyer-Puttlitz B, Boggi U, Saeger HD, Filipponi F, Lesche M, Meda P, Dahl A, Wigger L, Xenarios I, Falchi M, Thorens B, Weitz J, Bokvist K, Lenzen S, Rutter GA, Froguel P, von Bülow M, Ibberson M, Marchetti P. Diabetologia. 2018 Mar;61(3):641-657.
– Early metabolic markers identify potential targets for the prevention of type 2 diabetes. Peddinti G, Cobb J, Yengo L, Froguel P, Kravić J, Balkau B, Tuomi T, Aittokallio T, Groop L. Diabetologia. 2017 Sep;60(9):1740-1750.
– Low-dose exposure to bisphenols A, F and S of human primary adipocyte impacts coding and non-coding RNA profiles. Verbanck M, Canouil M, Leloire A, Dhennin V, Coumoul X, Yengo L, Froguel P, Poulain-Godefroy O. PLoS One. 2017 Jun 19;12(6):e0179583
– Expression and functional assessment of candidate type 2 diabetes susceptibility genes identify four new genes contributing to human insulin secretion. Ndiaye FK, Ortalli A, Canouil M, Huyvaert M, Salazar-Cardozo C, Lecoeur C, Verbanck M, Pawlowski V, Boutry R, Durand E, Rabearivelo I, Sand O, Marselli L, Kerr-Conte J, Chandra V, Scharfmann R, Poulain-Godefroy O, Marchetti P, Pattou F, Abderrahmani A, Froguel P, Bonnefond A. Mol Metab. 2017 Apr 8;6(6):459-470.
– Relationship between salivary/pancreatic amylase and body mass index: a systems biology approach. Bonnefond A, Yengo L, Dechaume A, Canouil M, Castelain M, Roger E, Allegaert F, Caiazzo R, Raverdy V, Pigeyre M, Arredouani A, Borys JM, Lévy-Marchal C, Weill J, Roussel R, Balkau B, Marre M, Pattou F, Brousseau T, Froguel P. BMC Med. 2017 Feb 23;15(1):37.
– Decreased STARD10 Expression Is Associated with Defective Insulin Secretion in Humans and Mice. Carrat GR, Hu M, Nguyen-Tu MS, Chabosseau P, Gaulton KJ, van de Bunt M, Siddiq A, Falchi M, Thurner M, Canouil M, Pattou F, Leclerc I, Pullen TJ, Cane MC, Prabhala P, Greenwald W, Schulte A, Marchetti P, Ibberson M, MacDonald PE, Manning Fox JE, Gloyn AL, Froguel P, Solimena M, McCarthy MI, Rutter GA. Am J Hum Genet. 2017 Feb 2;100(2):238-256.
– Hepatic DPP4 DNA Methylation Associates With Fatty Liver. Baumeier C, Saussenthaler S, Kammel A, Jähnert M, Schlüter L, Hesse D, Canouil M, Lobbens S, Caiazzo R, Raverdy V, Pattou F, Nilsson E, Pihlajamäki J, Ling C, Froguel P, Schürmann A, Schwenk RW. Diabetes. 2017 Jan;66(1):25-35.
– Associations Between Type 2 Diabetes-Related Genetic Scores and Metabolic Traits, in Obese and Normal-Weight Youths. Morandi A, Bonnefond A, Lobbens S, Yengo L, Miraglia Del Giudice E, Grandone A, Lévy-Marchal C, Weill J, Maffeis C, Froguel P. J Clin Endocrinol Metab. 2016 Nov;101(11):4244-4250.
– Impact of statistical models on the prediction of type 2 diabetes using non-targeted metabolomics profiling. Yengo L, Arredouani A, Marre M, Roussel R, Vaxillaire M, Falchi M, Haoudi A, Tichet J; D.E.S.I.R Study Group, Balkau B, Bonnefond A, Froguel P. Mol Metab. 2016 Aug 23;5(10):918-925.
– Post-Bariatric Surgery Changes in Quinolinic and Xanthurenic Acid Concentrations Are Associated with Glucose Homeostasis. Favennec M, Hennart B, Verbanck M, Pigeyre M, Caiazzo R, Raverdy V, Verkindt H, Leloire A, Guillemin GJ, Yengo L, Allorge D, Froguel P, Pattou F, Poulain-Godefroy O. PLoS One. 2016 Jun 21;11(6):e0158051.
– Epigenome-wide association of DNA methylation markers in peripheral blood from Indian Asians and Europeans with incident type 2 diabetes: a nested case-control study. Chambers JC, Loh M, Lehne B, Drong A, Kriebel J, Motta V, Wahl S, Elliott HR, Rota F, Scott WR, Zhang W, Tan ST, Campanella G, Chadeau-Hyam M, Yengo L, Richmond RC, Adamowicz-Brice M, Afzal U, Bozaoglu K, Mok ZY, Ng HK, Pattou F, Prokisch H, Rozario MA, Tarantini L, Abbott J, Ala-Korpela M, Albetti B, Ammerpohl O, Bertazzi PA, Blancher C, Caiazzo R, Danesh J, Gaunt TR, de Lusignan S, Gieger C, Illig T, Jha S, Jones S, Jowett J, Kangas AJ, Kasturiratne A, Kato N, Kotea N, Kowlessur S, Pitkäniemi J, Punjabi P, Saleheen D, Schafmayer C, Soininen P, Tai ES, Thorand B, Tuomilehto J, Wickremasinghe AR, Kyrtopoulos SA, Aitman TJ, Herder C, Hampe J, Cauchi S, Relton CL, Froguel P, Soong R, Vineis P, Jarvelin MR, Scott J, Grallert H, Bollati V, Elliott P, McCarthy MI, Kooner JS. Lancet Diabetes Endocrinol. 2015 Jul;3(7):526-534.